Italpollina Receives the 2018 Biostimulant AgriBusiness Global Industry Impact Award
2018-08-03 12:00:00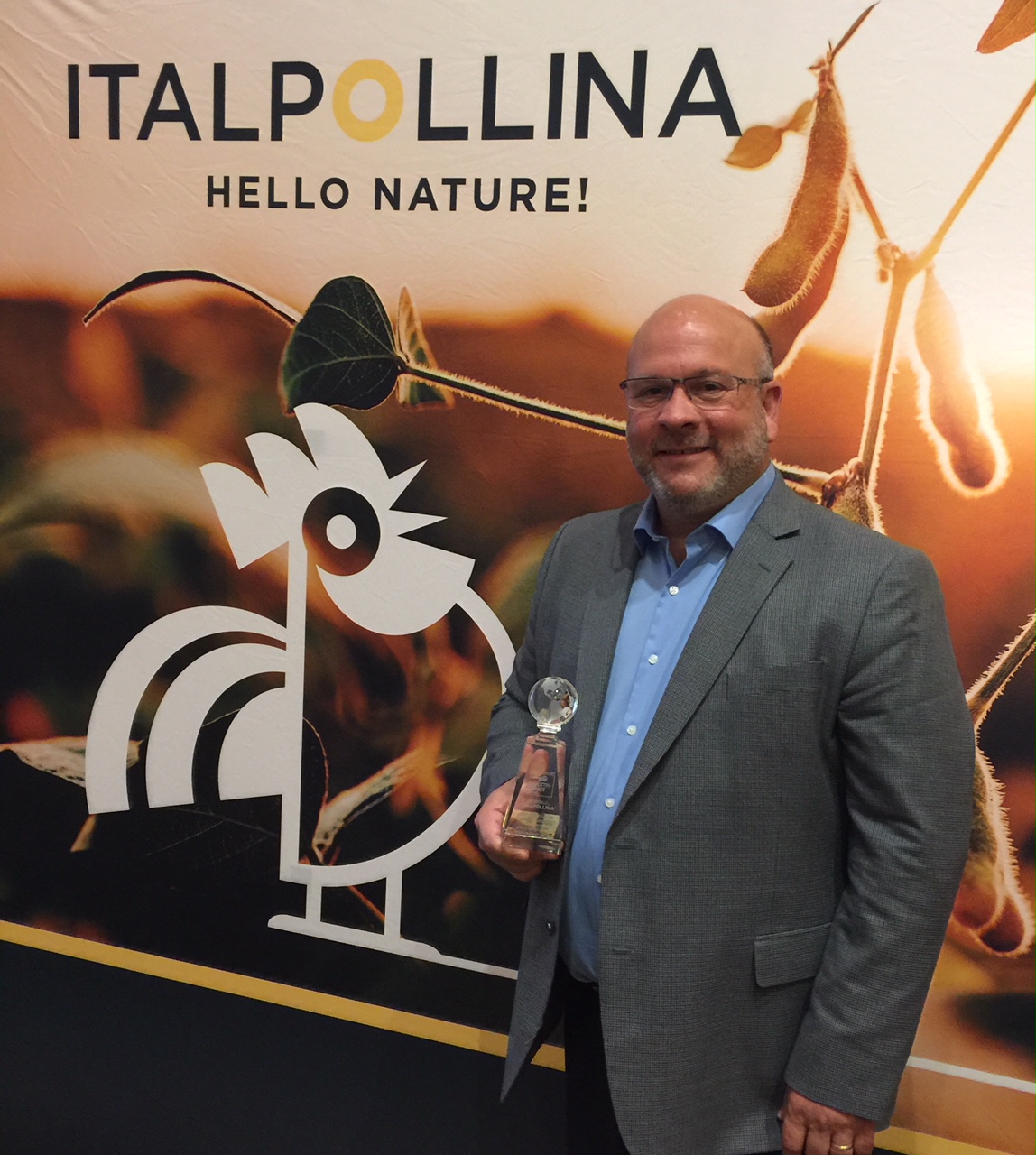 Press Release - updated: Aug 3, 2018 08:00 EDT
ANDERSON, Ind., August 3, 2018 - Italpollina, a world leader in the production of organic fertilizers, beneficial microbials and natural biostimulants has been named the recipient of the inaugural AgriBusiness Global Industry Impact Award for the biostimulant sector.
The presentation of the award occurred at the culmination of the AgriBusiness Global Biostimulant CommerceCon event, which was co-located with the Trade Summit in Phoenix, Arizona. Jon Leman, commercial vice president for Italpollina USA, accepted the award on behalf of the company. In his acceptance remarks, Mr. Leman expressed appreciation on behalf of Italpollina and recognized the company's ownership, the Bonini family, for their "continued leadership in sustainable agriculture."
Rebecca Bartels, business manager for Meister Media Worldwide and AgriBusiness Global, introduced the award. This prestigious recognition is presented to the company in the biostimulant sector who has leveraged product innovation that addressed the global biostimulant industry challenges and unique growth opportunities; successfully implemented a distribution strategy based on strategic partnerships, downstream value chain education, and key market identification and penetration; and executed a change-making marketing and communication campaign that took an emerging trend from a virtual unknown to a standard in the agribusiness marketplace. Judging was executed by a panel of experts comprised of the AgriBusiness Global Biostimulant CommerceCon supporting partner and association leadership, and AgriBusiness Global parent company Meister Media Worldwide marketing and communication executives. The prize awarded includes an integrated media package valued at nearly $25,000 USD.
"We are delighted to present the AgriBusiness Global Industry Impact Award to Italpollina," said Eric Davis, managing director of the AgriBusiness Group, Meister Media Worldwide. "Italpollina illustrated a core commitment to education, communication, R&D and its distribution approach to ensure its biostimulant products are utilized effectively throughout the supply chain and with farmers around the world."
Italpollina has a long history in advanced crop nutrition and has shown a continued commitment to innovation and sustainability. For more than 50 years, Italpollina has utilized science to enhance agriculture and develop solutions in a more natural way, and they have been recognized for their attention to human health and the protection of the environment with several important international certifications.
The company is present in 80 countries and has grown to be a global leader in three proprietary technologies for the production of organic fertilizers, beneficial microbials and 100 percent vegetal-based biostimulants. Quality, innovation and respect for nature are the leading values of the company. And an uncommon focus on research and technology is at the center of what they do - as illustrated by two research and development centers, with a third, Italpollina Park, slated to break ground later in 2018 adjacent to the newly commissioned plant in Anderson.
"We are very thankful and honored to be named the recipient of this important award that recognizes the most innovative aspect of our company - our commitment to research and the resulting new technologies for sustainable agriculture," said Luca Bonini, CEO of Italpollina. "We are optimistic as we look to the future knowing that the biostimulants of today are a bridge to future, even more exciting, technologies."
About Italpollina
Italpollina is a global leader in the production of organic fertilizers, 100 percent vegetal-based biostimulants and beneficial microbials. Its innovation has made Italpollina a worldwide leader – operating in 80 countries with five production sites, two R&D centers and 14 commercial offices. Founded by Cav. Licinio Bonini in the 1970s, Italpollina focuses on a sustainable and natural approach to agriculture, maintaining human and environmental health as paramount – a day closer to Nature. For more information, please visit www.Italpollina.com.
Media Contact:
MONICA JOHNSON | [email protected] | d. 1+770.337.3172
Source: Italpollina USA Inc.