Award-Winning Marketing Expert Velma Trayham Hosts Free Mastermind Program to Help Empower Female Entrepreneurs Aug. 20 in Atlanta
2018-08-03 12:00:00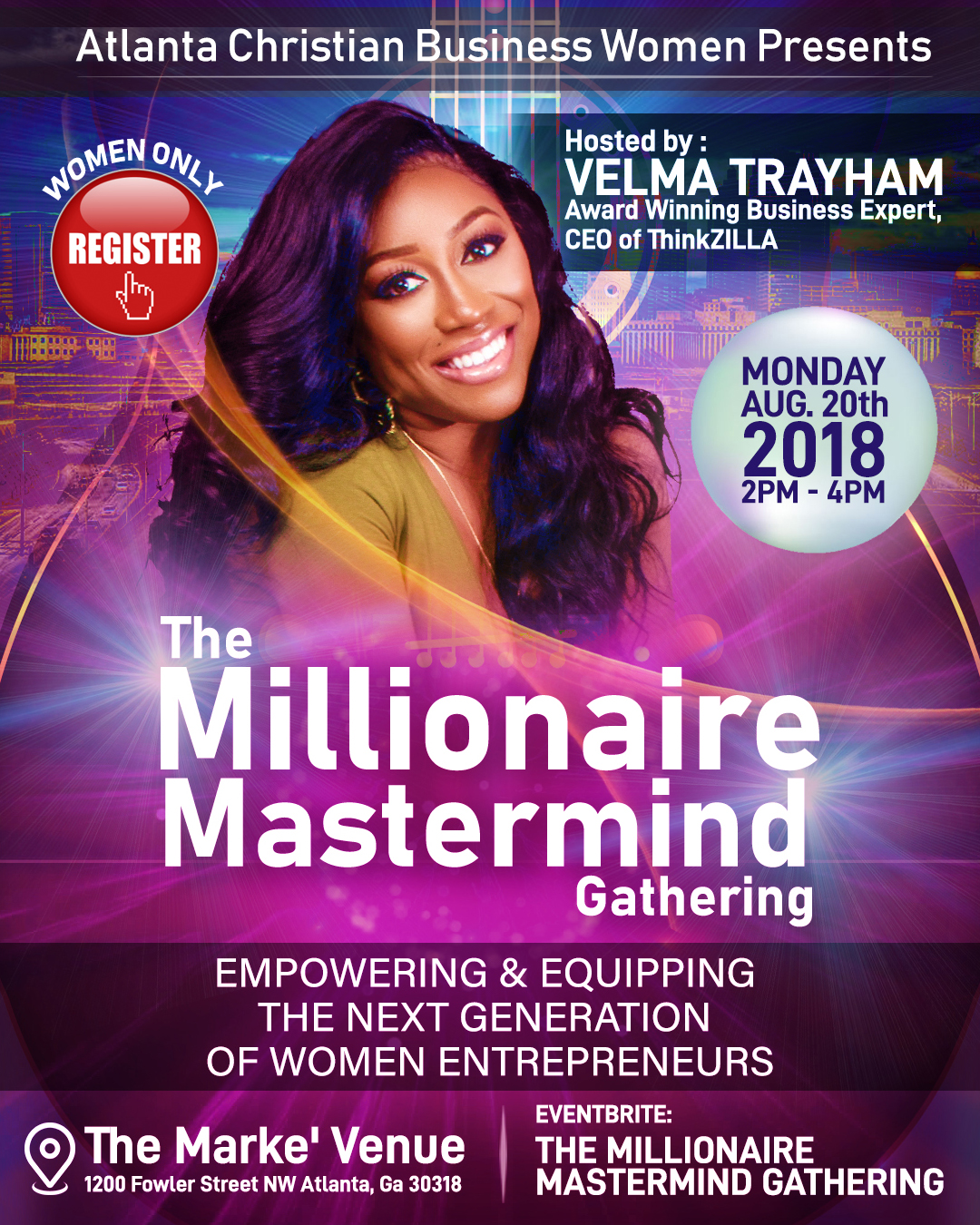 Empowering women into the next generation and overcoming poverty and adversity is the core of 'The Millionaire Mastermind Gathering'
Press Release - updated: Aug 3, 2018 08:00 EDT
ATLANTA, August 3, 2018 - Atlanta Christian Business Women presents "The Millionaire Mastermind Gathering" hosted by Velma Trayham, CEO of ThinkZILLA Consulting Group, Aug. 20 from 2 p.m. to 4 p.m. at The Marke' Venue at 1200 Fowler Street, NW Atlanta, GA 30318.
The Millionaire Mastermind launched in December 2017 and held the third Monday of every month teaches the most important success principles ever and is the perfect business resource group of hope and inspiration for women seeking a better quality of life regardless of race, age or religion. People are afraid to step out of faith, the opposite of fear.
Hundreds of women attend from all types of industries: medical, dental, entertainment, food, government, real estate and more. The mastermind provides many important answers to some of life's most challenging situations that people face in the exciting world of entrepreneurship.
Velma often questions: Why do so many people have a poverty mindset? They think poverty is sexist and racist. No!

Nancy Davis

Media Manager
U.S. Sen. Jeanne Shaheen, D-New Hampshire, said in a 2017 report, "Few role models and a lack of mentors contribute to the perception that entrepreneurship is a male-only endeavor."
Velma often questions: Why do so many people have a poverty mindset? They think poverty is sexist and racist. No! They have everything in them to be great and get what they want. Trayham was nobody who became somebody. She has been able to overcome all odds from very humble beginnings and now she's bringing it to the big table to share with and help others. From poverty to a self-made millionaire, she believes if she can do it, so can anyone.
"Not only have I been blessed to be able to live out the purpose in my life," Velma said, "but I have had the tremendous opportunity to help others do the same."
Velma has God-given talents and uses them to help others succeed. Through growth in business and overcoming obstacles, leaders can move towards their own goals to overcome fear, doubt or disbelief. The economic prosperity of an individual can help an entire community to thrive, providing jobs and opportunity.
Velma Trayham is a serial entrepreneur, author, speaker and CEO/founder of ThinkZILLA. Her most valuable skillset lies in her ability to rapidly conceive innovative marketing and branding solutions for businesses seeking to increase their market share. Under her tutelage, Thinkzilla has led to clients seeing 300 percent growth over the course of a year. Velma believes that established entrepreneurs and leaders have a duty to share their knowledge and facilitate the success of others.
Source: ThinkZILLA Consulting Group